Giving to Haiti Relief Efforts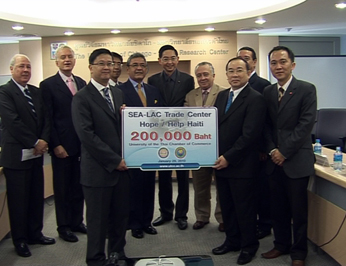 On January 29th, 2010 - The SEA-LAC Trade Center of the University of the Thai Chamber of Commerce raised fund to the Haiti disaster relief a total of 200,000 baht. Funds collected from university employees, faculty and students, and donated through the Ministry of Foreign Affair of Thailand for Haiti Relief Fund.

In the picture, Chiradet Ousawat, Ph.D., President of University of the Thai Chamber of Commerce (left) gave donation to Mr. Chirachai Punkrasin, Director General-American and South Pacific Department, Ministry of Foreign Affairs, Thailand (right). The witnesses are H.E. Dr. Vachara Phanchet, Thailand Trade Representative, H.E. Carlos M. Velasco, Ambassador of Peru, H.E. Edgard Telles Ribeiro, Ambassador of Brazil, H.E. Felipe Frydman, Ambassador of Argentina, H.E. Arturo Puente, Ambassador of Mexico, and H.E. Alberto Yoacham, Ambassador of Chile, Kaname Okada, Chief Coordinator of Inter-American Development Bank, and Dr. Jakarin Srimoon, Executive Director of the SEA-LAC Trade Center, University of the Thai Chamber of Commerce.